Wedding magicians ensure that special days are truly magical
Looking for the perfect entertainment for your wedding day? Entertainment that keeps your family and friends happy throughout the day without interrupting? That's real wedding magic.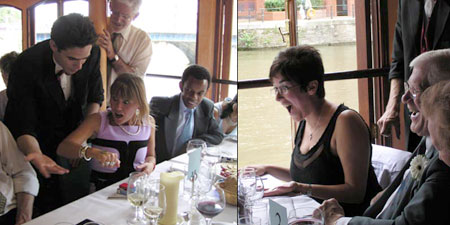 As an experienced wedding magician I don't just help make your day even more memorable and your guests entertained, I perform the greatest magic of all – helping your special day run smoothly. I'll tell you how:
By mingling with your guests I can quickly break the ice and create a relaxed atmosphere.
I can turn waiting for photographs and all those other pauses in proceedings into an entertaining interlude of dazzling close up magic.
A spot of table magic between courses keeps your guests amused and energises the whole room with laughter, excitement and anticipation.
I often use a PA system when appropriate so larger groups can hear me. Something I'm more than willing to provide for your wedding speeches.
Most popular of all is my ability to transfix and delight children with a magic show and balloon modelling - perfect for speech time and other moments of the day when you'd perhaps like a little guaranteed peace.
And am I any good? Well the only tears I've seen have been of joy from happy brides thanking me for helping make their day special! I've also had the privilege to be chosen by name to perform at a royal wedding that featured in Hello Magazine.
I will also keep younger guests quiet with a children's show during the fidgety periods when the adults are congratulating each other, the toasts are being raised and the best man is embarrassing the groom with anecdotes not fit for sensitive ears.
"My husband and I hired Robert for our wedding in August and he AND his magic was fab! After the wedding my friends and family all agreed that he was one of the best magicians they had ever come across. One of the unique skills that Robert has, which we quickly established was not the case with all magicians, is that he is equally talented in entertaining children as well as adults which made him perfect for our event.
Having worked in hospitality for the majority of mine and my husband's careers we've come across many entertainers who, strange as it sounds, have not been good with people. Well, this is definitely NOT the case with Robert. At our wedding, he came across as a really likable and friendly chap with a quirky and accommodating personality.
I would highly recommend anyone to hire Robert for their event - I'd certainly have no hesitation in hiring him again. He really is great value for money."